Developing a social media marketing campaign can be a difficult task for any agency, but avoiding stereotypes in the process is a challenge that some marketers are unaware of. Unfortunately, one major brand recently discovered the hard way that failing to eliminate stereotypes from a social media campaign can deal your brand some serious damage.
Strategy Gone Wrong
Ragu Pasta Sauce took the wrong course of action in their attempt to "engage" bloggers with their new social media campaign. Instead of developing a relationship with bloggers, they randomly "spammed" dad bloggers with tweets asking questions about dad and dinner.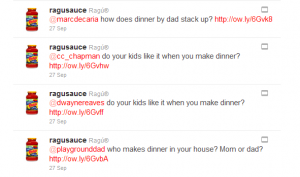 The link took bloggers to this video, which effectively insulted every dad by questioning their skills at home and reinforcing the typical stereotype about the cooking role dads play in the family. The end result for Ragu? A ton of negative feedback from dads, bloggers, and moms alike. Complaints ranged from Ragu missing the mark on their target audience, not understanding the valuable role dads play in the lives of their children, to only focusing on the traditional mom position in the family. Even Chris Brogan weighed in stating:
Now that social media is a checkbox service offered by agencies and run by the junior associates at those agencies as part of a much larger campaign wherein which the only part of social that gets done is the pushing out of meaningless link spam, I'd like to offer that I think Ragu has no idea that you exist, let alone any sense of your cooking skills.
Reacting to a Social Media Crisis
With a PR nightmare on its hands, what was Ragu's immediate response? Nothing. Considering this was a social media campaign gone seriously awry deciding to make no response only confirmed the belief of bloggers and the rest of the public that Ragu had no idea what it was doing when it came to social media marketing. C.C. Chapman, a well-known blogger, father and recognized leader in social media marketing, blogged about Ragu's disastrous foray into social media. His first post, Ragu Hates Dads, received 259 comments and yet Ragu said nothing. Two subsequent posts garnered another 88 comments.
To date Ragu has made weak attempts to convince consumers that they do not hate dads. Using their Twitter account they have directed followers to other "more balanced" blog posts (compared to C.C. Chapman's) such as one by Chip Griffin and another by Doug French. In addition, they posted a note on one of their Facebook pages issuing an apology to any dads that took offense and admitting that they did not provide enough context to the video and tweets they sent out. Whether or not the brand will suffer a loss to its consumer base still remains to be seen.

Related articles