For 15 years, I've looked forward to this time of year — Phish announces its summer concert tour!  (This is always a multi-media news release simultaneously released across multiple media channels.) Seeing the lineup of venues is always a nice boost into Spring for my husband, many friends and me.  We are always guaranteed a few fabulous East Coast shows in outdoor venues. The fact that we still see about 2 or 3 summer shows hasn't changed, but there are a few things that have.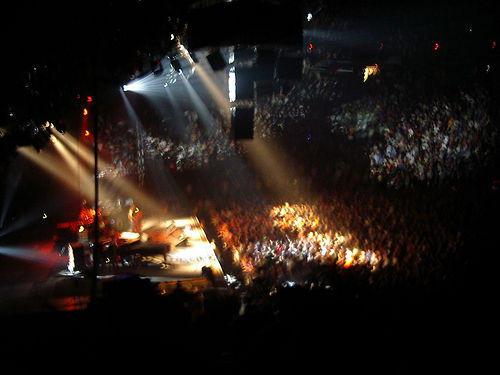 The Changes
In our early 20's, the lawn was the best ticket you could get.  Out there on the grass with 25,000 other dancing phans was a blast.  Now, as we approach 40, we go the additional mile (and pay up!) to secure inside seats.  It's now a requirement to have an actual seat during intermission to take a breather, avoid the sweaty throngs and almost guaranteed rain shower.  I always enjoy seeing my college-aged nephews' excitement when they score a lawn seat— but the lawn is for the young—I need to sit down!  A few other changes:
Wine in the parking lot prior to the show has replaced beer
Instead of hanging around after the show, we now try to park close to the exit to make a clean escape directly after
A "peace-of-mind" call to check in on the kids marks a stark contrast to the days when we hadn't a care in the world (or a cell phone, for that matter).
What's Stayed the Same
What does an inside seat at a hippie rock concert have to do with marketing?  Simple: though I've changed my view and now have a seat up front, I'm still dancing to the same band. As iPads and smartphones take over the world, the mobile media market is booming. The idea of reaching consumers online, at anytime, is thrilling.  There is no denying that online and social media must be part of any marketing plan. But I'm a traditionalist. I still scour my local, community newspaper and am extremely loyal to companies that underwrite Vermont Public Radio.
And I'm not the only one.  According to the Pew Research Center, 47% of adults use the Internet to get information about local businesses with newspapers following close behind (mostly the printed version) and word of mouth:
47% say they rely most on the Internet, including:
search engines – 36% rely on them
specialty websites – 16% rely on them
social media – 1% rely on social network sites or Twitter
30% rely most on newspapers, including:
printed newspapers – 29% rely most on that
newspaper websites – 2% rely on them
22% rely on word of mouth from family and friends
8% rely on local TV, either broadcasts or the websites of local stations
The Take-Away
So even though it seems mobile media is taking over the world, traditional media is not dead when it comes to marketing local businesses.  Newspaper and word of mouth make up for over 50% of the sources where consumers get their information.  Even in this ever-changing mobile world, some things remain the same.
As for me, I'm still as excited about each Phish show-the same way I was when I was 18-but now I have a seat fit for a 37-year-old mom inside!