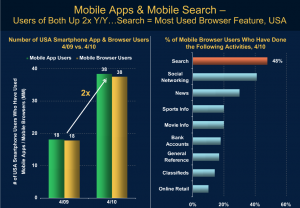 The Pace of Change Continues to Accelerate
For someone like me, the best thing about Mary Meeker's annual Internet Trends presentation is it's just packed with data. The charts are sometimes too packed, in fact, and more than one viewing is a must to take it all in. But it's always revealing, and usually inspiring. Because it's research based, not fiction.
The scope of the presentation is comprehensive: the rapid ramp up of mobile Internet, impressive innovation, online advertising with average CPM by medium — key stats and trends in online commerce, communications and cloud computing — what's next in technology, and of course, 'beyond technology,' or what the implications may be for economic markets. There are facts and statistics of interest to anyone involved with the Internet and communication.
Slides 8 and 9 have special impact for those of us living in rural New England. The charts show the effect of the availability of 3G cellular service and of access to various broadband wireless technologies. It's clear those living in areas without these technologies will be left in the past.
Slide 17 is a wake up call for business owners and marketers. The subject is the massive and rapid change in user expectations. Anyone not paying attention, anyone operating in the same old, same old ways will become irrelevant to their customers. The message resonated for me in the way only a simple, clear statement of truth observed can — a good reminder of the need to be ever-vigilant in listening to our customers.
Related articles by Zemanta